DANCING IN NORMS
How do technological norms influence the movements of our bodies? The experimental short "DIN" takes us on a journey through constantly evolving mechanical environments that living beings must adapt to or break out of. A dance in norms, tangled in networks of body and technology.
Work in progress. Production period: 10/2022 – 06/2023
︎
PROBLEM: Physical movement in our Western everyday life is strongly shaped by standardized environments and is disappearing more and more due to technology and automation.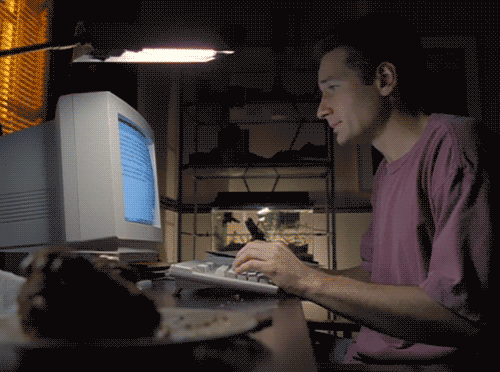 This leads to a movement paradox: We have to make up for the lack of movement in our (work) everyday life with fitness and physical training in our free time (with the help of fitness-machines and -apps).

︎︎︎ Mood Trailer: "mechanical, fluid, bizarre"

DIN (WT) is a research project that aims to artistically explore the influence of technology and standardization on physical movement.

This is not about technology pessimism. As Donna Haraway already stated in 1991: "We are all cyborgs". Without technology, we would no longer be able to survive. Rather, the project seeks to capture a zeitgeist and encourage to think about how we move and what kind of movement makes us feel intense, far away from standards, optimization and body cult.
Inspired by Oskar Schlemmer's Triadic Ballet (1912), the collaboration of the three disciplines motion design, dance (motion capture data) and sound/music form the core of the project.
Technology is visualized by a world of abstract DIN standards, which moves mechanically and constantly evolves. Fluid body-beings (particle simulations and soft-bodies) move in it, connecting and adapting to it or trying to fight against it.

TOOLS: Cinema 4D, Blender, Houdini, Redshift, Cavalry, Processing, After Effects, OptiTrack (MoCap)
WORK RULES:
Use the time to dive deep into the topic.
Get involved in the playful experiment. Do not judge. Have fun.
Take time to reflect critically.
Document the process.
Take care of yourself.
BIBLIOGRAPHY:
Hürter, Tobias: So kommen Sie weiter, in: Zeit-Wissen, 01.03.2017
Schönhammer, Rainer: Einführung in die Wahrnehmungspsychologie, UTB, 2013
Krier, Sophie (Hrsg.), Marek Pokropski, Field Essays #1: Embodied pick of sticks, Onomatopee, 2010
Hochwald, Franziska: Denken in Bewegung – Wie unser Gehirn die Welt versteht, in: swr.online, 27.09.2018
Kunzru, Hari: You Are Cyborg, in: Wired, 01.02.1997
O'Connell, Mark: To Be a Machine, Doubleday, 2017
SHADING SUGGESTIONS: undefined background, monochrome, subtle colour accent, studio lighting, shiny textures (see the three references below). But I am very open to any ideas ︎.
DIPLOM 2023

© Filmakademie Baden-Württemberg GmbH
TEAM

Art direction & motion design: Samuel Lewek / Producer: Sabina Stöckler / Dance: Thomas Lempertz / Music & sounddesign: Fred Hellmann / Motion design: Ole Bornitz, Luca Carubia & Victor Heckle / Editing: Katharina Jung / Camera: Jan Wittkopp